This post is also available in: Korean
Last winter, thanks to the help of my dear friend Hiroshi Nomura and his family, Mako Mochizuki, the bicycle of Tom Nagashima and the dosimeter  from Greenpeace Japan, I cycled from Tokyo to Sendai measuring radioactivity, looking for the best location to deploy a fleet of Protei from the shoreline. This map below is my journey last year ending in TEDxTohoku.
View Tokyo -> Sendai. Radioactivity measures + pictures in a larger map. http://g.co/maps/xfkz4
I based my trip on the first estimate of radiation dispersion, and the most recent Safecast map.  I failed at working with Safecast, even if I was lucky to bump into Kalin on the road last year who instructed me of how to use the dosimeter and the geiger counter.
A year ago, I saw devastation on hundreds of kilometers of coastline. I met fishermen at the refugee camp that told me terrifying stories of earthquake, tsunami and radioactivity. To remind you a few facts : on 11 March 2011, a magnitude 9.03 (Mw) undersea megathrust earthquake about 70km off the coast of Japan that occurred at 14:46 JST (05:46 UTC). Tsunami waves reached heights of up to 40.5 metres (133 ft) in Miyako in Tōhoku's Iwate Prefecture and which, in the Sendai area, travelled up to 10 km (6 mi) inland. 15,878 deaths, 6,126 injured and 2,713 people missing from the earthquake and tsunami alone. The tsunami caused nuclear accidents, primarily the level 7 meltdowns at three reactors in the Fukushima Daiichi Nuclear Power Plant complex, and the associated evacuation zones affecting hundreds of thousands of residents. The World Bank's estimated economic cost was US$235 billion, making it the costliest natural disaster in world history.
According to the Woods Hole Institute, the Fukushima Nuclear plant accident "resulted in the largest accidental release of radiation to the environment in history" – if you want to understand how it compares to Chernobyl, please have a read at this informative poster.
I found several sites that would be good to launch a fleet of Protei from, and potentially sail around Fukushima to measure radioactivity. So I had to come back. This time with Gabriella Levine, and a Protei to test in the water, more prepared. We arranged a meeting with Joe Moross of Safecast.
After a brief discussion we came to the conclusion that making underwater measurements was a research worth attempting. The other information was that water generally acts as "a shield", and being many times denser than air, radioactivity tends to get "diluted" in the "mass of water". So we decided to attempt measuring radioactivity on the seafloor. That would mean getting our sensor underwater, very close to the seafloor.
We ran to Akihabara with Prof Alvaro Cassineli of Tokyo University and spent most of our night hacking at the Safecast headquarters in Shibuya (picture above).
After a few hours of sleep, and before hitting the road, we stocked up some cute radioactive cake. Please have a slice :)
In the car, the co-pilot would get near-real time radioactivity informations and guide instructions to the driver from Tokyo to Fukushima, and later down from Fukushima to Kyoto trying to take yet unmapped / un-measured routes. We encountered snowy or icy road in the mountains that slowed down our progression.
The Safecast shiny red car took us all the way to Fukushima, where we found this wreck of a red fireman truck. Stark contrast.
I knew we would come across brocken houses, but I can never get used to it…
We were everywhere reminded that nothing can resist the power of nature. "Tsunami Barrier" is an oxymoron. No matter how hard we try.
We arrived in Hisanohama, which is just south of the new exclusion zone. Exact location map.

We tested Protei v10.4 in the water. The electro-mechanics are working well but it lacked ballast (weight at the bottom of the keel) : the wind flattened it on the water and careless transport later broke the mast. We'll work on the build again soon. Because we were in Fukushima, we focused not on Protei itself but on the radioactivity sensing part.

We tested our freshly built underwater geiger counter up to 6 meter depth without leak nor damage to the sensor.

This is our kit of underwater radioactivity measurement. It fits nicely in a bag, with our ~5kg lead weight.
From left to right :
What we measured the 2013 01 30, at Hisanohama port (XY = 37.1480, 141.0029) :
0.224μSv in the air in HisanoHama
0.002μSv midwater (3m depth)
0.09μSv at the sea bed (3cm from sensor to sea bed) (6m depth)
other measurements we made, for indication :
Experimental set up
And below is a very rough draft of what Protei could provide : autonomous sensor deployment for surface, "mid-water" and seabed radioactivity measurements.
Proposition for future work
We haven't done enough background research about how radioactivity in the ocean is currently studied, but  we feel that the difference in values between
land surface
water surface
"mid-water"
seabed
are significant enough to make us want to investigate the topic further in partnership with Safecast.
Hundreds of thousands of people have suffered the earthquake, tsunami and on-going nuclear crisis. We feel such research is extremely valuable for the life of people, the future of Japan and other countries equipped with nuclear equipments and waste facilities. We don't know yet what would be the value of a map of seafloor radioactivity similar to the one the Woods Hole researchers have been developing for surface water (below). I believe these would be 2 very complementary data sets and would help us understand much better radioactivity in the oceans in general. Such Protei deployment could also be used in other "Radioactive waters" which are not necessarily consequent to nuclear accidents in Africa and the Middle east (must read article).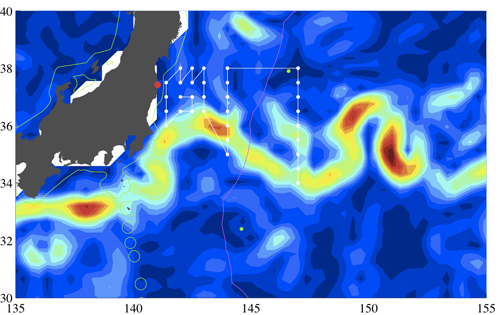 As we are sailing around the world, we are making radioactivity measurement everywhere we go. Maps will come :)
A million thanks to Safecast and Tokyo University Department of Applied Physics.
We'll be back !!!
Tags: accident, contamination, fukushima, Japan, Leak, Niigata, nuclear, prefecture, radioactivity